Evenly cool all over
All-around Cooling
The All-around Cooling system continually monitors temperature fluctuation and cools the fridge evenly from corner to corner. Cold air is blown out through multiple vents on every shelf level to create a multi-directional airflow, so it maintains a constant temperature and food stays fresher.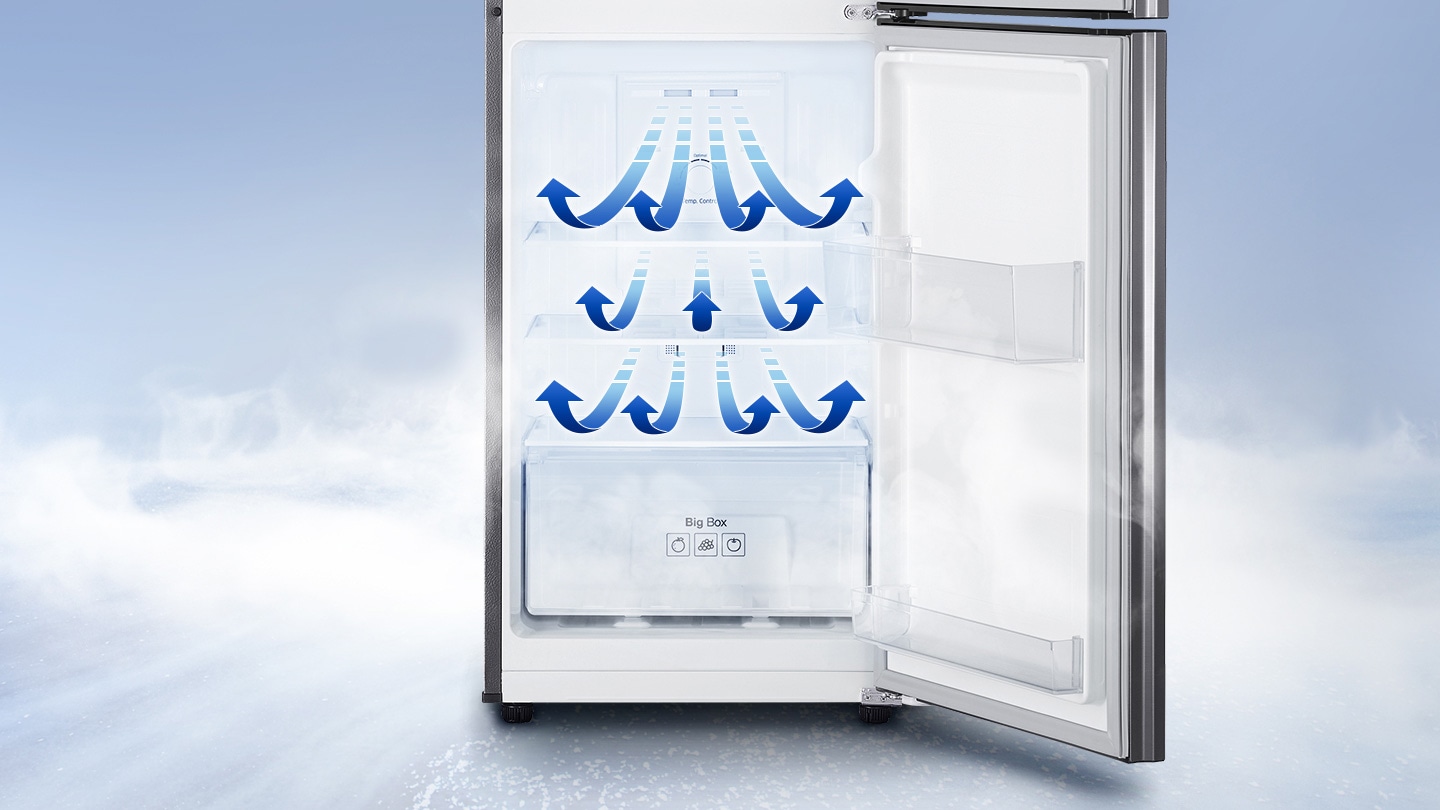 Smarter & durable
DIT
Enjoy long-lasting performance, energy efficiency of up to 50%*, precise temperature and less noise compared to a conventional compressor. Digital Inverter Compressor gradually speeds up and slows down in response to cooling requirements across 7 gears by utilising smart sensors. Adjusting speed means it suffers less wear and tear, making it durable and it operates silently. This durability is backed up by a 20-year warranty*.
* Based on internal testing comparing energy consumption (ISO 15502) between Samsung conventional model RT46K6**5(6)** and RT54E****
** 20-year warranty is limited to the compressor only.
Save energy & money
Energy-efficient Design
The energy-efficient design saves you money on your electricity bills, but still keeps your food outstandingly fresh using its advanced cooling technology. It uses less electricity than a non-inverter model without sacrificing performance or functionality – maximizing your ongoing cost savings.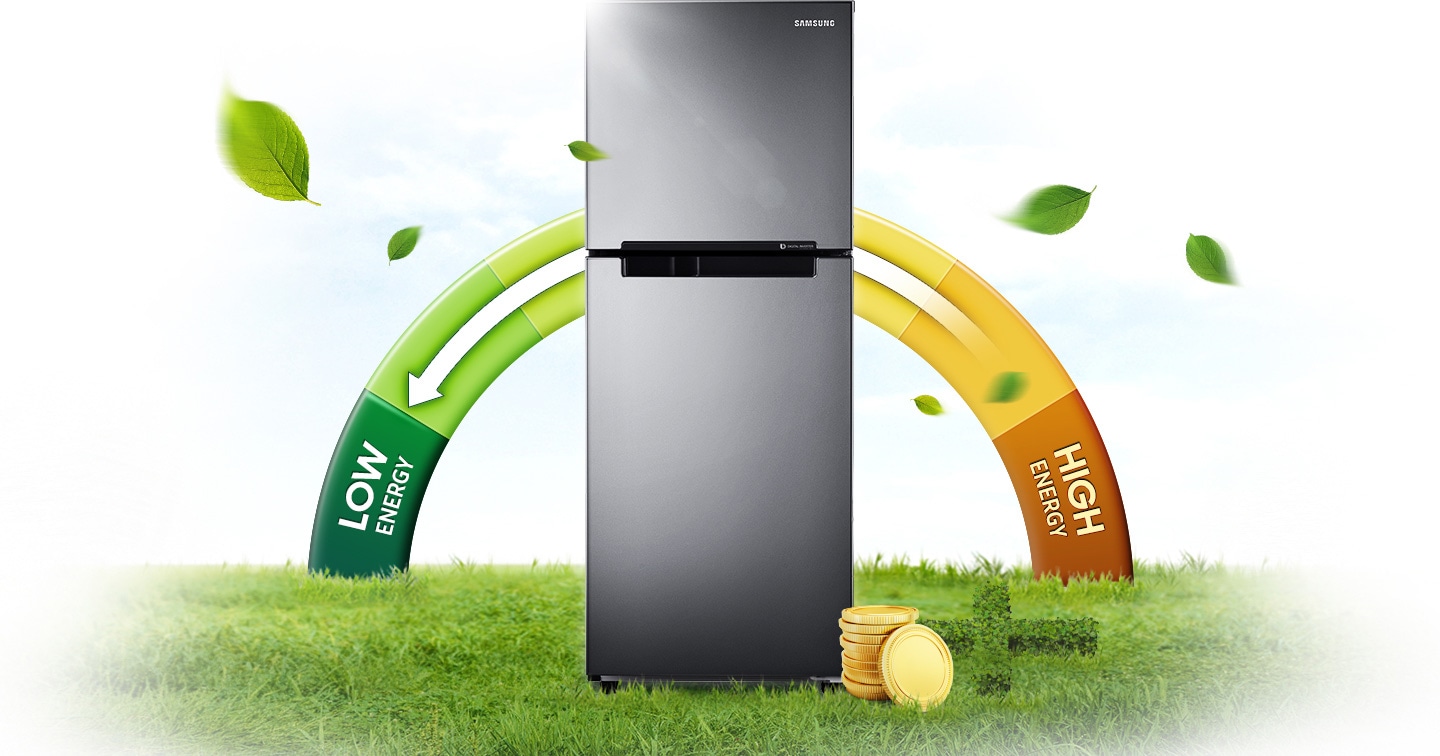 Strong, safe shelves
Tempered Glass
Tempered glass shelves can safely hold heavy items, like watermelons or marrows. They are designed and tested to withstand a huge weight of up to 150kg. So you don't need to worry about storing very heavy items on the shelves and even food prepared in heavy pots and pans can be kept cool and fresh
Hygienic anti-bacterial & airtight seal
Anti-bacterial Seal
Harmful bacteria can build-up around the silicone gasket of a fridge door. So the Anti-Bacterial Seal is made of an anti-bacterial material and forms an airtight border. It keeps the seal clean and prevents bacteria from entering and building-up, so everything inside is safer and more hygienic.
Frost-free freshness
No Frost
No Frost technology enhances the circulation of air inside the fridge to quickly reach and maintain an even and stable temperature in every corner. It stops ice from forming on food, so it stays fresh and nutritious, and prevents the build up of frost, so you don't waste time and power defrosting.
More fresh groceries
Vege Box (Big Vegetable Box)
A large capacity Vege Box provides a convenient space to store a large amount of fresh vegetables and fruit. And because it's so big it's much easier to find everything, as they're all in one place and easy to get to, so you can enjoy them more often without taking up valuable kitchen space.
See more find better
LED Lighting
The high efficiency, long lasting LED lighting is slimmer, brighter and more power-efficient than conventional lighting. It creates more space for food, brilliantly illuminates every corner with softer lighting that's more comfortable on your eyes, and saves you money on your electricity
NO FROST
No frost cooling technology prevents the build-up of frost on fridge walls or on food and refrigerates faster.
DIGITAL INVERTER COMPRESSOR
This ensures high efficiency and consistent temperature inside the refrigerator. It also results in significant cost savings, a reduced carbon footprint, less noise and a longer lifespan for the compressor.
ENERGY SAVING
This refrigerator uses much less energy than older models so you can maximize your electricity and dollar savings without sacrificing the features you want.
---
SPECIFICATIONS
Capacity
Capacity (Ltr): 280 LTR
Performance
Child Lock: Yes
Door Locks and Alarms: Yes
Door Style: double door
Interior Light: Yes
LED Displays: No
Operating Mode
Quiet: Yes
Temperature Controls: yes
Convenience
Shelves: 4
Drawers: 1
Water Dispenser: No
More Information

| | |
| --- | --- |
| Manufacturer | Samsung |